Amy Coopman 
Amy is an employment law attorney with Foland, Wickens, Eisfelder, Roper & Hofer, PC. She spends most of her time representing employees in employment related disputes, including claims of discrimination, harassment, retaliation, wrongful discharge, FMLA and FLSA rights and employment agreement violations.
Amy is married to David Coopman, a high school math teacher and football coach. They have two teenage daughters that can occasionally be convinced to join their parents hiking or doing yard work. Amy enjoys helping young adults prepare for success. She received a BA in English and a law degree from the University of Kansas.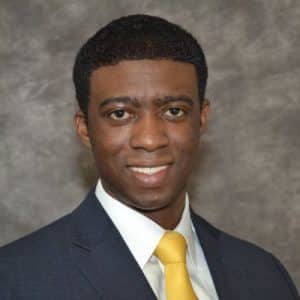 Calvin Girard, Treasurer 
As Senior Manager of Investor Relations for Great Plains Energy (parent company for Kansas City Power & Light), Calvin works to establish, maintain and enhance relationships with current and potential investors of the company. Before joining KCP&L in September 2007, Calvin spent nearly 5 years in public accounting conducting audits on a diverse set of businesses including non-profit organizations. Calvin holds a Bachelor of Science degree in accounting from Eastern Connecticut State University, and an M.B.A. from University of Phoenix.
Deana Barger, Secretary
Deana is the Environmental Manager for Harley-Davidson Vehicle and Powertrain Operations in Kansas City. She ensures environmental regulatory compliance for the factory and leads all sustainability activities for the site, including waste management, energy conservation, and employee awareness.  Deana received her Bachelor of Science in Natural Resources from the University of Nebraska and began her career working in water resource enhancement and rehabilitation for the state of Nebraska before transitioning to manufacturing compliance and sustainability for first Michelin North America and now Harley-Davidson.
D'Vontai Fields
D'vontai (far left) is a former Green Works student and 2012 graduate of North Kansas City High School. We're excited that D'Vontai is back in the Kansas City area and serving on our board. D'vontai spends his time working for his family coffee business, studying coding and rehabbing a house he owns in a neighborhood near Brush Creek. He enjoys listening to music, watching sports and discovering local food.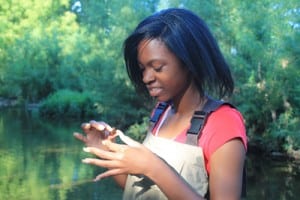 Jabria Robinson
Jabria was involved in Green Works for three years during high school before graduating in 2013. During her time with Green Works she had a summer internship at the EPA and started a recycling program at AC Prep High School. Jabria currently attends the University of Central Missouri where she is majoring in environmental science. 
Jensen Adams
Jensen serves as the Energy & Sustainability Manager at Kansas City Public Schools (KCPS) where he implements energy saving and recycling programs district-wide. KCPS operates 40 facilities, spanning 4.5 million square feet and serving over 15,000 students. Prior to joining KCPS, Jensen worked for the Metropolitan Energy Center with a wide-variety of responsibilities, including developing Project Living Proof. Jensen holds undergraduate degrees in Geography and Urban Studies, and a Master's degree in Public Administration, all from the University of Missouri, Kansas City. Jensen is a member of the KC Chamber Centurions class of 2015.
Kate Corwin, President and Founder
In 2007, after a successful career as an IT engineer in telecommunications and nine years as an entrepreneur, Kate founded Green Works. Kate is an active community member, having served as chair of the 43rd and Main TIF Advisory Board, on the Landmarks Commission, the Zoning Steering Committee and as president of the Southmoreland Neighborhood Association. She currently serves on the board of MainCor.
Kate was named an American Graduate Champion by KCPT, is a recipient of an Environmental Excellence Award from Bridging the Gap and was named Eco Activist of the Year by The Pitch. Kate has worked on campaigns to limit bottled water at City Hall, increase recycling at events in city parks, and discourage the planting of ornamental pear trees. Kate is a member of Kansas City Tomorrow, International Women's Forum and is a graduate of  Kauffman FastTrac. Kate holds undergraduate degrees in Information Technology and Finance and an MA in Economics. 
Manuel Solano, M.D.
Manuel currently serves as Medical Director for Samuel U. Rodgers Health Center. Prior to his employment at Samuel Rodgers, he worked for the Metropolitan Community College Institute for Workforce Innovation in the Health and Science Institute and as a faculty member of the Science and Technology Department and for the Kansas City Public School District as a school administrator and instructor.
Manuel serves on several boards including the Saint Luke's School of Nursing. Manuel is a native of Bogotá, Colombia, South America where he practiced medicine for 20 years and provided consulting work for a variety of for profit and non-profit organizations, including the Colombian government. After coming to the US he attended the University of Missouri-Kansas City, and the University of Central Missouri. Manuel is a licensed Science and ESL teacher as well as a licensed School Administrator. Manuel holds a BA in Information Technology, an MA in Teaching and medical degrees from Universidad De Nuestra Senora Del Rosario School of Medicine in Bogota, Columbia.
Neila Seda
Neila has an undergraduate degree in Civil Engineering from Iowa State and an MS degree in Environmental Engineering from the University of Connecticut. Originally from Puerto Rico, Neila speaks fluent Spanish, a huge plus with the diverse young people we serve. Neila works at an engineering firm designing urban water systems. She hopes to pursue a PhD and focus on making desalination more sustainable and improving water access for everyone. In her spare time Neila enjoys walking her dogs and planning trips back home to visit her family.
Ryan Bresette, Board Chair
Ryan recently left his position as Assistant Controller for Kansas City Power & Light to run the Live Like Luke Foundation. Ryan had worked for the last 5 years in the energy sector and before that held various finance and accounting roles in the Kansas City area. His interests are in creating long-term sustainable strategies and developing tomorrow's leaders.
Ryan is actively involved in youth activities with his children, including coaching sports and Boy Scouts. As an Eagle Scout, Ryan has always given his time and talent in serving others, volunteering as a young adult with the Muscular Dystrophy Association. Ryan is a CPA and earned a BS in Accounting from Rockhurst University and an MBA from University of Missouri, Kansas City. 
Scott Bingham
Scott is the Principal Landscape Architect with BBN Architects, Inc. and leads the landscape architectural efforts for the firm. In this role, Scott is responsible for a wide variety of project types, ranging from outdoor plazas and parks, to natural stormwater systems, to the grounds for some of Kansas City's most recognized institutions. Scott is a Kansas City native and received a Bachelor of Landscape Architecture at Kansas State University and a Masters of Architecture at the University of Kansas. Outside of work, Scott enjoys reading, biking and spending time with his family, which mainly consists of trying to keep up with his two teenage daughters' activities.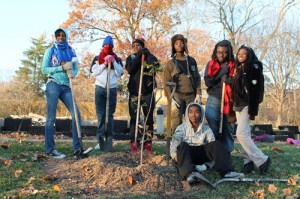 Student Advisory Board
Each year we select several current and alumni students to serve in an advisory board capacity. Students help us with recruiting, curriculum and program design.