Kansas City Today
In Kansas City we have urban neighborhoods with few businesses and fewer jobs. Poverty and unemployment are high. Schools are under-funded; educational opportunities are scarce; role models are hard to find. And too many of our young people drop out of school.
At the same time, our city has made it a priority to preserve natural resources. We weatherize homes, work to expand public transportation and invest in an aging sewer and storm water system. But to be effective in this effort, we must include all of our neighborhoods and all our residents.
Our Commitm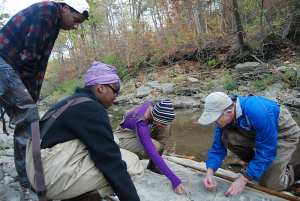 ent
Green Works was formed to improve education and career opportunities for urban high school students with a focus on the environment. But it takes time. Green Works programming is long-term – we commit to work with our students for at least 2 years.
We spend one year teaching our students about Kansas City's most serious environmental issues though a hands-on, science curriculum (ECOS) that includes field trips and service projects. We spend the second year helping our students with soft skills, interest evaluations, money management and career planning (Excelerate). That summer we raise the money to place our students in paid internships where they gain real work experience, meet more people and are exposed to careers they never considered.
Outcomes
After two years with Green Works our students have solid work experience for their resumes. Their self-esteem has improved, they have learned money managements skills and are often saving for their education. They have met new people and have been exposed to careers they would have never considered. And they know more about Kansas City's serious environment issues than their peers and most adults.
Transforming Kansas City
Now consider how Kansas City could be transformed if more students were able to take part in Green Works' programming.
More young adults would graduate from high school better prepared for post-secondary education and the workforce. Some will work directly for the environment – in jobs they never considered before Green Works.  Others will spread their knowledge of environmental stewardship to their work places.
With steady employment, Green Works graduates will be able to buy homes. They'll plant native plants in their yard, weatherize their homes, install rain barrels and teach their neighbors. When they became parents, they'll pass on their respect for the environment to their children.
Imagine entire neighborhoods of Green Works graduates attending community events and advocating for their neighborhoods. They are educated voters who understand the important decisions impacting our water infrastructure and public transportation. Some graduates will be appointed to boards and commissions, helping lead Kansas City's future.  They are resilient and accountable role models — actively engaged in our community.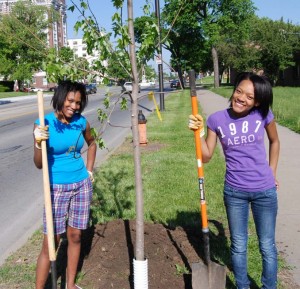 Imagine our future when more students graduate from Green Works: High school dropout rates decline, employment goes up, poverty decreases, and homeownership goes up. Our urban neighborhoods become greener and healthier places to live and work. And we create an environmental movement that includes everyone – young and old, black and white, urban and suburban.
With your support, a larger number of inner-city students can have a better future, the opportunity to become environmentally aware, engaged and productive citizens. Imagine a better future for them and a better future for Kansas City. Donate now and let's create this together.  
"Green Works in Kansas City inspires me! The organization excels at maximizing financial resources to benefit our urban youth and community. And the return on investment in this group is astounding. While it may be difficult to measure in dollars, it's real value trickles through every fiber of the community. Green Works provides hands-on, relevant job skills to teens and then helps them find jobs, community outreach to strengthen families and the communities they live in, and projects that improve our environment." – Nancy Jenkins