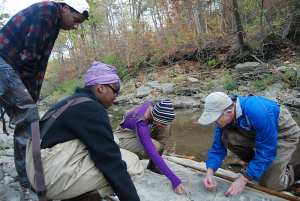 Our first year ECOS program was designed to involve our students in solving our environmental challenges, and connecting them to a green economy. ECOS is a one year out-of-school science program that is aligned to state and national science standards and includes experiential classroom instruction and experiments, hands-on projects, guest speakers, science journal observations, field trips and service learning opportunities. The curriculum focuses on Kansas City's most pressing environmental problems including the combined sewer system, energy conservation and weatherization priorities, our declining urban forest, increasing ozone levels, and solid waste and recycling issues.
"I am definitely a better community member after Green Works. I tell my family and neighbors about what I have learned and help them change too."

"I do many things differently. I try to remember not to ask for bags in stores, I use natural light in my room, I carry around a  water bottle instead of plastic bottles and I have a new respect for wildlife."
"ECOS was a great opportunity for me. It helped me grow into a better person and connected me with great opportunities. I will stay involved in environmental issues in the future."
ECOS Program Evaluation
Dr. Connie Campbell completed an evaluation of ECOS and her evaluation included the following student results and characteristics:
ECOS provided a direct benefit to water quality, energy conservation, air quality and solid waste reduction through citizen involvement and education.
ECOS increased the impact on the environment through example and influence.
Students demonstrated mastery of academic environmental science concepts.
Students experienced increased self-perceptions, confidence and concern about the environment.
For more information on student results, see our Student Outcomes page.