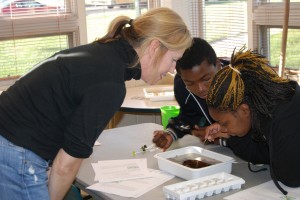 In-Kind Contributions
Our students benefit from partners who donate staff time and resources to make our programming hands-on, interactive and engaging.
Our current curriculum partners include Avenue of Life, Blue River Watershed Association, Bridging the Gap,  Cultivate Kansas City, Environmental Protection Agency (EPA), Goodwill Industries, Green Utopia, Healthy Rivers Partnership, Kansas City Public Schools,  KCMO Parks & Rec. and Water Services, KKFI Community Radio, Lakeside Nature Center, Lee's Summit Solid Waste, Little Blue River Watershed Coalition, Metropolitan Energy Center, Mid-America Regional Council, Missouri Department of Conservation, Missouri Organics, Nile Valley Aquaponics, Surplus Exchange, and Urban Lumber Company.