Kate Corwin, President and Founder
Kate is responsible for leading the fundraising and marketing efforts for Green Works, planning new programs and expansion opportunities and handling administration. She also serves as an assistant instructor for the Accelerate program. Kate is an active community volunteer who believes in the power of persistence, passion, good data and humor to improve both physical and social environments. Kate has undergraduate degrees in IT and Finance and an MA in Economics. She serves on the board of Green Works.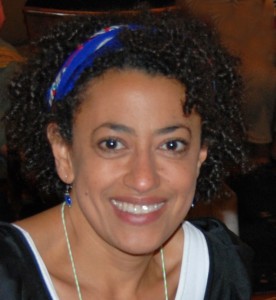 Mary Silwance, Program Director
Mary serves as the lead instructor for the ECOS environmental education program, as well as the Green Ink Alumni group. Along with teaching, Mary handles student recruitment and coordinates the assistant ECOS instructors. Mary is an avid writer, gardener, runner and reader. She's also a mother of three amazing girls she drives crazy with her environmentalism and insistence they go outside. Mary is fluent in Arabic and holds an MA in Curriculum & Instruction.
Charlotte Cline-Smith, Instructor Accelerate
When she isn't teaching our Accelerate program, Charlotte works as a community organizer in Midtown and contracts as an academic writing coach for second-language Masters' and PhD students around the country. She has an undergraduate degree in Applied Linguistics, a Masters' in Intercultural Communication, and a deep commitment to critical pedagogy as a way of life. Charlotte has seven years of teaching and training experience in business, small group, private tutoring, and college classroom settings. She is passionate about sustainability and loves hosting intentional discussions around colorful dinners with her community.
Jorge Thieroldt, Assistant Instructor ECOS
Jorge has an undergraduate degree in sociology from the Pontificia Universidad Católica del Perú, and a master's degree in sociology from the University of Kansas. Jorge arrived at KU thanks to a Fulbright scholarship and he studies the role of non governmental organizations in environmental causes. Jorge is finishing work on his doctoral dissertation dealing with the role that communities and NGOs have played in fighting environmental degradation from mining in Peru. In his spare time he enjoys bird photography.  And yes, he does speak Spanish!
Victoria Marcklinger, Assistant Instructor ECOS
Victoria gets excited about the intersection of environmental activism and education. She's Dominican-Ecuadorian but lived several years of high-school and college in Kansas City and now calls Midtown KC home. Victoria spent a semester working on an organic farm on Costa Rica's Pacific Coast and traveling around Latin America and the Caribbean. Upon completing her undergraduate degree she spent time in South Florida working in refugee resettlement and taught community gardening at the Milagro Teen Center in Delray Beach, Florida. Her non-profit experience has inspired and fueled her deep passion for education through community visual art. Her spouse is a vegetable farmer and tree shepherd in Midtown KC.
Katie Luecke, Assistant Instructor ECOS
Katie graduated with a Biology Teaching degree from the University of Utah in 2014. She began her work in environmental education while working with 4th graders to monitor water quality. Katie has worked with elementary, middle, and high school students to promote environmental awareness and advocacy. She moved to Kansas City in 2015 to pursue her love of teaching and currently teaches Environmental Science at Hogan Preparatory Academy. When she's not teaching, Katie loves to read, hike, and travel
D'Vontai Fields, Assistant Instructor ECOS
D'vontai is a former Green Works student and 2012 graduate of North Kansas City High School. We're excited that D'Vontai is back in the Kansas City area and is working with us as an ECOS assistant. Along with helping Green Works D'vontai spends his time working for his family coffee business, studying coding and rehabbing a house he owns in a neighborhood near Brush Creek. He enjoys listening to music, watching sports and discovering local food.
Jesse Bailey, Assistant Instructor Accelerate
A long time resident of Kansas, Jesse moved to Kansas City in 2013 to take a position at Cerner where he works as a Sr. Software Engineer. When he isn't coding, he loves spending his free time working toward community wholeness, making art through drawing and writing, playing games, and spending time in nature. His passion for mentoring youth is directed towards bringing out the best in their ability to learn and innovate.