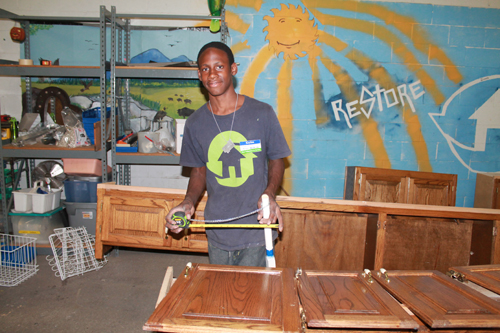 Double Your internship Contribution!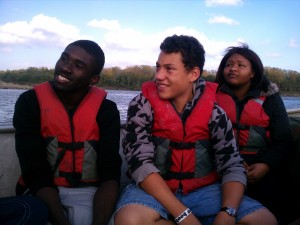 We have so much to smile about this summer! We have just received a challenge grant from a long-time Green Works supporter. If we raise $1,500 from individuals for internships, the contributions will be matched and we'll have $3,000! That will cover the student stipends for three of our students. So please don't delay and send your tax-deductible contribution now so we can double your gift! Just click Donate Now and help us give these students a life-changing summer experience. And for a little inspiration, keep reading to find out about a few of our fabulous students.
Matthew on the left above is interested in architecture and engineering. Through Green Works he's working at Habitat Restore this summer and doing some job shadowing at a couple of large engineering firms.
Brandon (center) is interested in computers and this summer he is working at the Discovery Center helping with everything from native plants to getting classrooms ready for summer sessions. Brandon will be doing some job shadowing at KCP&L in the computer department.
Queen (right) isn't sure what career she is interested in yet. But she will have plenty of inspiration this summer. Queen is spending two weeks at Smith College attending a sustainability high school course. The opportunity was arranged by a Green Works supporter and Smith graduate and all expenses are covered by the local Smith alumni chapter. What a phenomenal opportunity for Queen!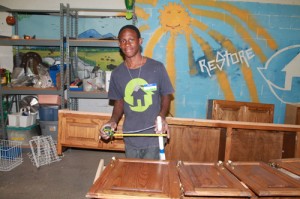 Keylen had an internship at Restore last year and this year he has an internship working with the education department at the KC Zoo. Keylen has decided that he really wants a career working with animals so we are all extremely excited that we were able to arrange this internship for Keylen.
Last summer the unemployment rate for urban minority teens in the US was 81% — the highest rate ever recorded. But because of you, our interns aren't part of this statistic. Please help us and Donate Now so we can continue to offer these meaningful summer experiences!
Tags In