Green Works' Community Programs
Four times each year we host community programming at our classroom space. Topics cover ways to live more sustainably in the city by planting natives, practicing organic gardening, and reducing waste. We also host programs on Citizen Science.
If you're interested in receiving notification about our programs, please sign up for our newsletter and connect with us on social media. To access an online calendar of environmental events in our area, visit the Climate Council of GKC.
Community Education Initiatives
Over the years, Green Works' students and staff have been involved in a number of community education initiatives. The larger projects include:
Repair Cafe and Open House
During the fall of 2019, Green Works, along with our neighbors the Maker Village, 816 Bike Collective, and Stitching Change sponsored a Repair Event where community members could bring clothing, jewelry, small wood and metal items, lamps and bicycles for minor repairs. Our expertise was free, but we welcomed donations. Some of the costs for the event were covered with a small grant from the MARC Solid Waste Management District. We're hopeful we can make this an annual event so stay tuned!
Our students and volunteers undertook a habitat restoration project at the oxbow on Brush Creek. Students, volunteers and partners planted more than 3,000 native plants and shrubs on the creek and 35 native trees and removed nearly 2 acres of invasive honeysuckle. We installed bird and bat houses, signage and conducted clean-ups, water quality testing and assisted with bird counts and banding. The city recently completed an extension of the hiking and biking trail that now takes visitors past the oxbow. Funding for the oxbow project came from an EPA 5-Star grant and a TogetherGreen Innovation grant, from The National Audubon Society and Toyota. The Kansas City Star covered one of our early planting events in the spring of 2011.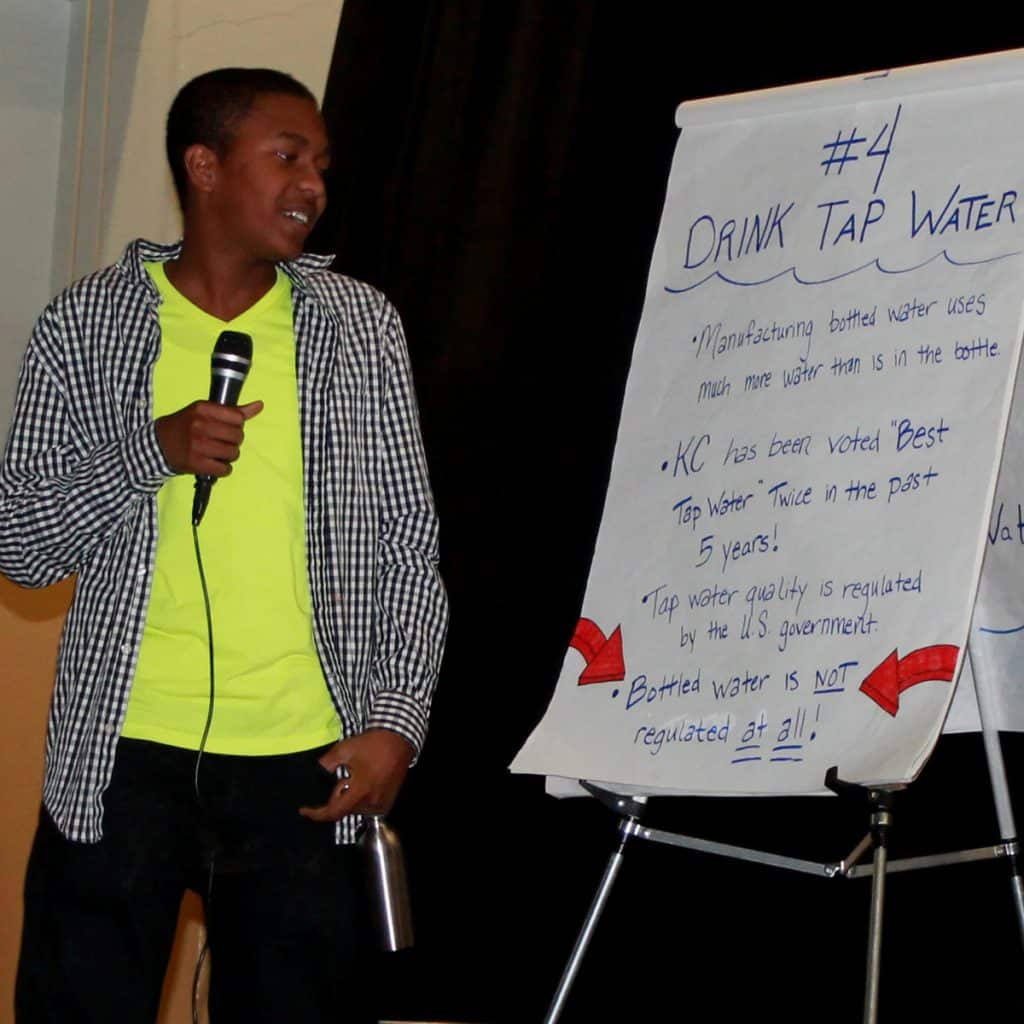 As part of EnergyWorks KC, our students assisted Bridging the Gap with WaterWorks!. Our students co-hosted nine community events, presenting 5 Blue Things and Our Water is in Jeopardy, a game that the students developed and fabricated. Students distributed water saving kits and copies of our native plant book. With our board members and volunteers they helped community members build 25 rain barrels and plant two rain gardens.
Out students have worked with KCMO Water Services and Parks & Recreation to write and help produce videos for use at community events. The first video is about preventing water pollution and the second highlights the new recycling program at the community centers.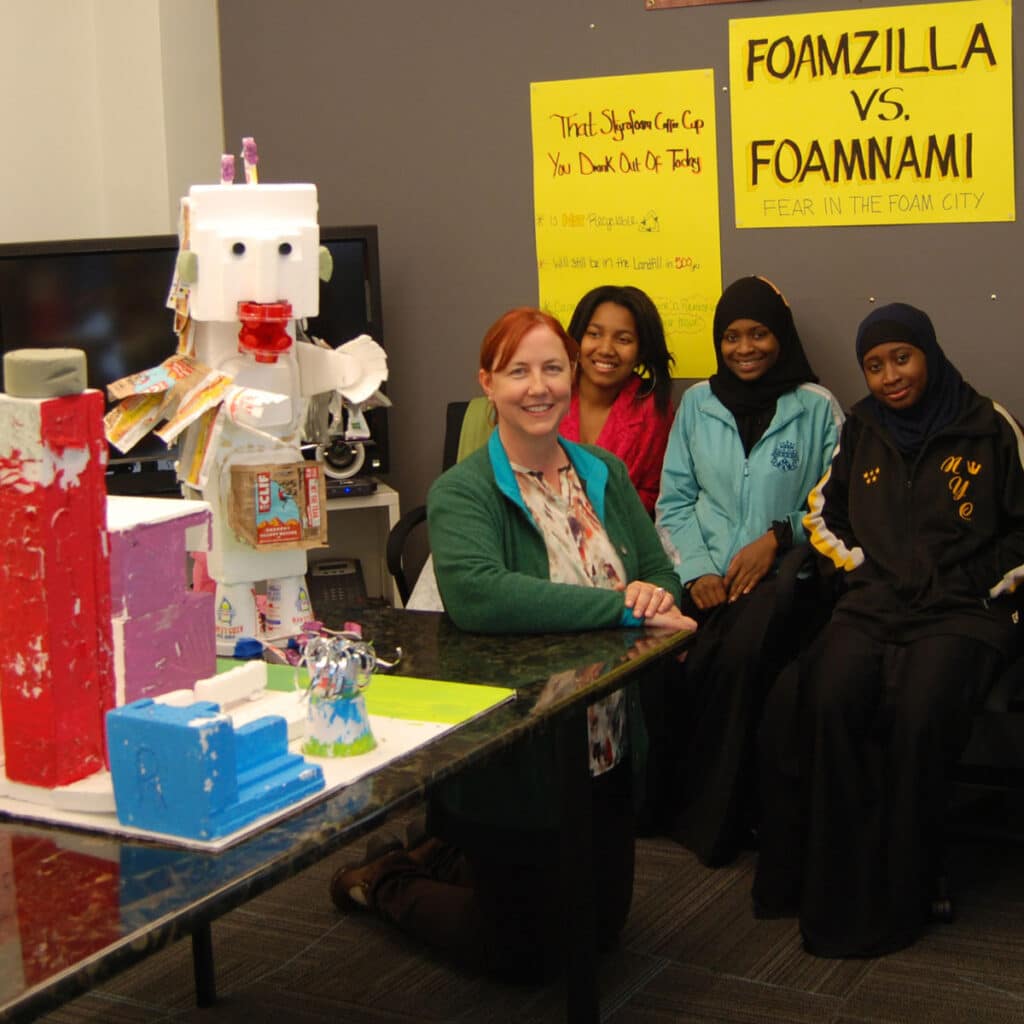 Our students created an art project to help educate people about polystyrene (commonly called Styrofoam). The students envisioned a city being engulfed by a Foamnami wave, or being trampled by a Foamzilla. Their instructor, Krystal Anton, arranged for the students' artwork to be displayed at Wallace Engineering for a spring First Friday event. The students had a wonderful time talking to everyone and explaining the problems with polystyrene. The students and the exhibit also traveled to Troostfest and to the Plaza for an Earth Day event.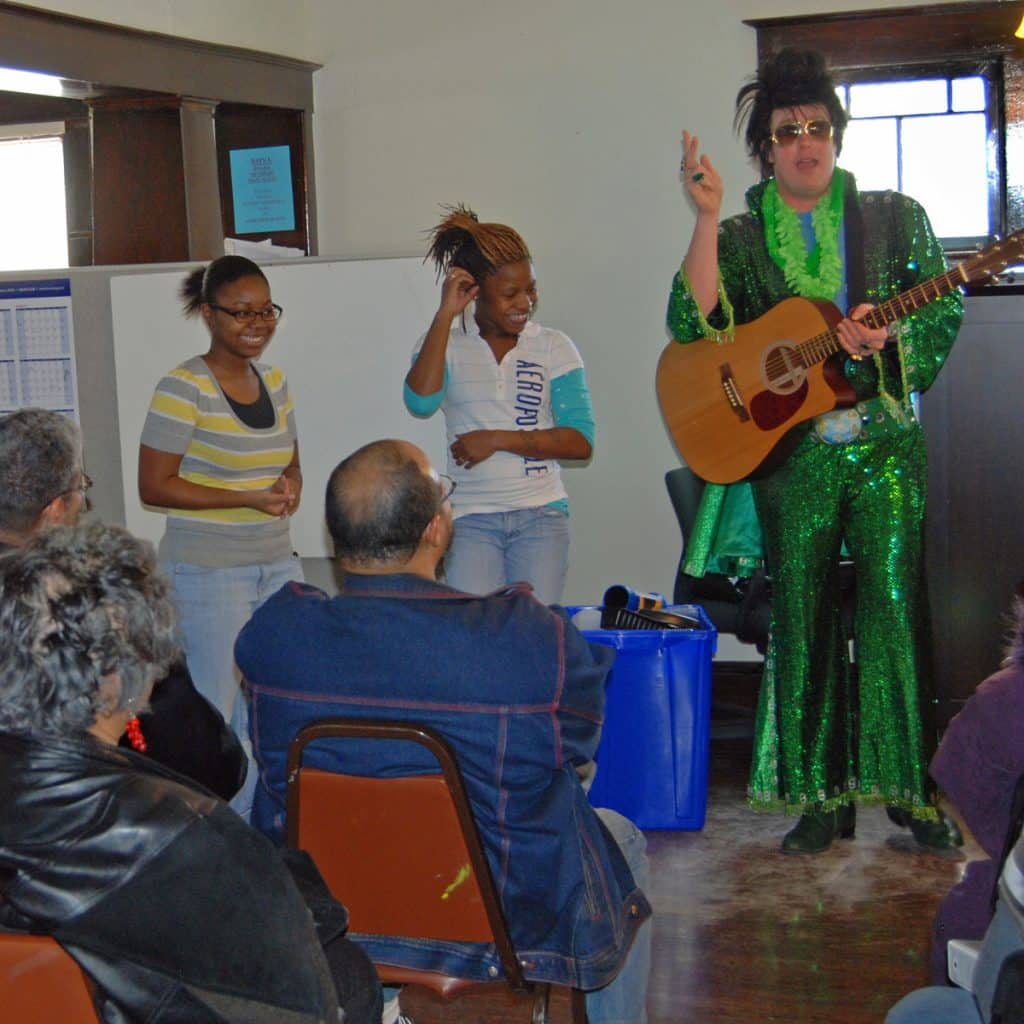 Shake Up Recycling with Eco Elvis
We teamed up with Kansas City's own Eco Elvis to visit community organizations, educate residents about the city's recycling program, and distribute recycling kits with bins, reusable water bottles and shopping bags. Eco Elvis sang and the students talked about their recycling efforts at home and we distributed more than 200 kits. At each event, people stayed behind to talk to the students and were excited to find out that many of the students were from their neighborhoods!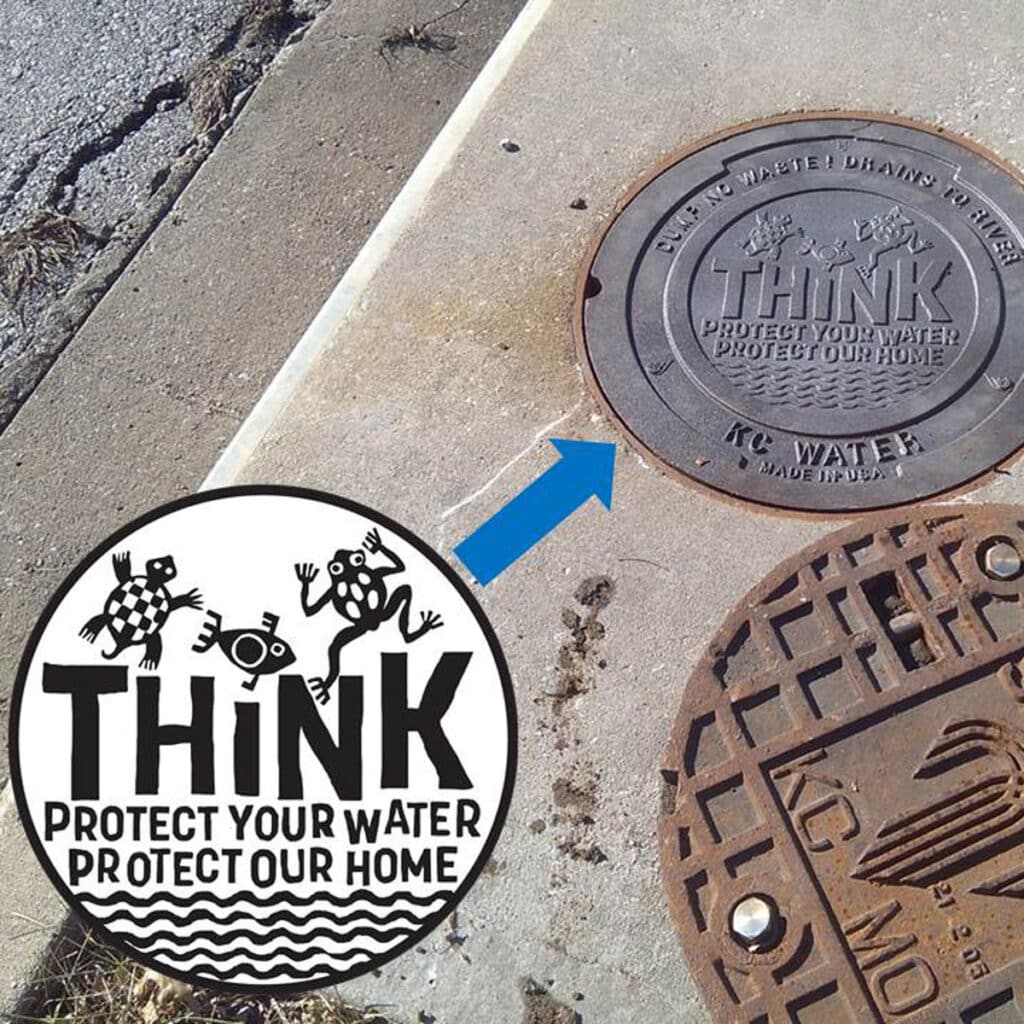 Storm Drain Manhole Cover Design
Our founder, Kate Corwin and Mike Buster had the winning design for the new KCMO storm drain manhole covers. The design includes rock art style animals as a reminder of our area's Native American history and respect for the environment.
We hope this new design helps people remember that whatever is on the ground ends up in our waters. And what ends up in our water ultimately ends up in us.
The new covers have been installed strategically in areas of high walking traffic in Kansas City. See if you can spot one!